System Architecture
The diagram below provides a high-level overview of the Hypertable system followed by a brief description of each system component.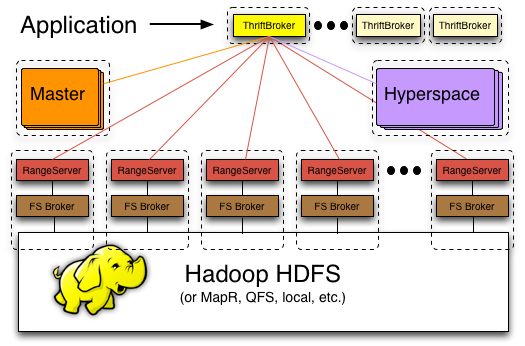 Hyperspace - This is Hypertable's equivalent to Google's Chubby service. Hyperspace is a lock manager and provides a filesystem for storing small amounts of metadata.
Master - The master handles all meta operations such as creating and deleting tables. The master is also responsible for detecting range server failures and re-assigning ranges if necessary.
Range Server - Range servers are responsible for managing ranges of table data, handling all reading and writing of data.
FS Broker - Hypertable is capable of running on top of any filesystem. To achieve this, the system has abstracted the interface to the filesystem by sending all filesystem requests through a File System (FS) broker process. The FS broker provides a normalized filesystem interface and translates normalized filesystem requests into native filesystem requests and vice-versa. FS brokers have been developed for HDFS, MapR, Ceph, KFS, and local (for running on top of a local filesystem).
ThriftBroker - Provides an interface for applications written in any high-level language to communicate with Hypertable. The ThriftBroker is implemented with Apache Thrift and provides bindings for applications written in Java, PHP, Ruby, Python, Perl, and C++.